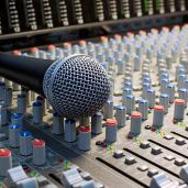 Psychic for Radio
Psychic for Radio is a unique music project from ProgRock Records founder Shawn Gordon. The overall concept is to make music in an ego free environment without over thinking it. To that end, he was able to enlist some amazing musicians to realize the objective:

Henning Pauly
Miles Gordon
Martin Orford (ex-IQ)
Mark Zonder (Fates Warning)
Mike Alvarez
Pater Matuchniak (Evolve IV, Gekko Projekt)
Carl Westholm (Carptree, Jupiter Society)
Randy George (Ajalon, Neal Morse band)
Sean Entriken (Prymary)
Bill Berends (Mastermind)
Marek Arnold (Seven Steps to the Green Door)

The line up will change from album to album, so check the line up on each page and the available audio samples. That is assuming there is more than one album :).
Good Friday Sale We are once again having our "Good Friday" sale, but the prices are active today "Tuesday" and will... read more 16 Apr 2014
Factory of Dreams release "Some Kind of Poetic Destruction" Hugo Flores is back once again with Jessica Lehto for another amazing audio journey, get all the... read more 26 Feb 2013
Factory of Dreams release "Some Kind of Poetic Destruction" Hugo Flores is back once again with Jessica Lehto for another amazing audio journey, get all the... read more 26 Feb 2013
Special 50% off Sale Just so very pleased that my dad is now cancer free that we're running a special coupon code for... read more 26 Jan 2013