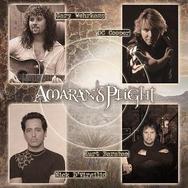 Gary Wehrkamp and DC Cooper are no strangers to working together. Gary is the keyboardist, guitarist and Producer of veteran Proggers, Shadow Gallery. DC Cooper appeared on their 1999 conceptual piece, Tyranny as a guest vocalist on the epic track, New World Order. Fans of Shadow Gallery have longed for a Wehrkamp/Cooper collaboration ever since. DC Cooper is the voice behind the Power Prog-metal band, Silent Force. Before joining forces with guitarist Alex Boyrodt to form Silent Force, he was vocalist for veteran Proggers, Royal Hunt.

Nick D'Virgilio is one of the highest rated drummers in Prog today. Besides being the driving force behind Spock's Beard, he has also played with Mike Kennealy, Kevin Gilbert, Tears for fears and Genesis. Nick takes drumming to the next level on Voice in the Light with an over the top performance that adds emotion, heart and a sonic punch that makes the bands debut album a must hear.

Kurt Barabas is one of the founding members of Los Angeles based Under The Sun and along with Shadow Gallery was part of the prog revival spearheaded by Magna Carta records in the early 90's. Kurts bass playing is often singled out as the driving force of Under The Sun.
Artist website