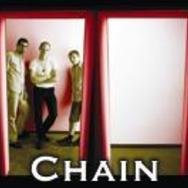 The story of Chain is not your average "formed-a-band-recorded-an-album" story.
Chain was formed in 1994 by keyboardist Stephan Kernbach. Drummer Thorsten Hannig and bassist Christian Becker were 15 years old back then and naturally you would assume they wouldn't be ready to play progressive rock, but these kids could play.
Henning Pauly was the fourth member, on guitar. The band rehearsed for a year and wrote a lot of material, but could never find a vocalist, so they split up.
The only proof of their existence was a tape recorded during a rehearsal. Years passed and Henning moved to Boston to study at Berklee College of Music where he studied arranging and music synthesis, writing big band music, pop, rock, ambient etc.
After his studies he moved to Los Angeles and started producing a variety of artists. One day he found the Chain tape and listened he couldn't believe that after all these years he knew every single note and that the themes really worked, so he decided to produce an album that should have been produced 8 years earlier.
He spent most of 2002 working on "RECONSTRUCT". In December he found the missing link in the chain, Matt Cash, an amazing vocalist who adds a flavour to the music which is somewhat unusual for progressive rock.
Henning discovered after years of writing and arranging that he forgot where his true passion lies: progressive rock - heavy guitars, driving rhythms, complex arrangements, great vocal harmonies, epic story.

A band that died a year after it was formed lives again. They are back and they can't be stopped. 2 days after they got signed to progrockrecords.com they were back in the studio working on a new album which is planned to come out later this year under the title "chain.exe" !
Their sound is somewhere between progrock and progressive metal with a strong emphasis on themes and vocal lines.
RECONSTRUCT is a concept album spanning the complete history of evolutionary time. It contains 10 songs (2 of which are instrumentals) weaved together by seven "Earthscapes", connecting pieces which sometimes sound more like ambient music or a filmscore.

The members of Chain are all involved in several side projects, one of which is Henning Pauly's Solo Piano work which earned him some recognition in classical circles but now has been pushed to the side to work on "chain.exe".
Because of the 10,000 miles between band members the writing process has changed a little bit but they are communicating daily to make sure Chain becomes a steady part of the progressive rock scene.

Make sure not to miss the exciting Frameshift side project with Henning and James LaBrie of Dream Theater, this is one of the best releases of 2003.
Artist website