Henning Pauly > Henning's Big Package (digital)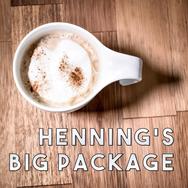 Buy
Price:
$59.95
(PayPal is the only payment option. Download link will be emailed to you after ordering)

This special priced bundle of Henning Pauly releases includes all 13 albums he has done, in digital format. Some of these have never been released and some have been long out of print. Now is your chance to pick them all up in one juicy bundle. The package includes the following releases, by clicking on each release name you can see details and hear samples from each release (not available for albums that were never released):

Chain - Reconstruct was one of the first releases on ProgRock Records and introduced Henning Pauly and his amazing skill as a composer, arranger, multi-instrumentalist and producer to the world.

Chain - Chain.exe the second Chain release, this time around Henning gathered some amazing musicians to help him make this CD a more impressive progressive metal experience. Among the musicians are Michael Sadler, lead singer from SAGA, and Mike Keneally (Frank Zappa, Steve Vai, Mullmuzzler, Beer for Dolphins, etc.) who lends his voice and guitar skills to the last track on the album. Sadler is singing on an already highly praised cover version of Saga's own "Hot to Cold" together with Chain's lead singer Matt Cash and Maya Haddi.

Frameshift - Unweaving the Rainbow with James LaBrie (Dream Theater) on vocals. This album broke new ground for Henning as well as LaBrie, where his vocals were the focus of the compositions with lush harmonies, modern production techniques and unique songwriting.

Frameshift - An Absence of Empathy sees a return to the Frameshift concept, but this time with Sebastian Bach ex-Skid Row on vocals. This is the best vocal performance ever put to tape by Bach with an intense musical concept and heavy yet catchy songs.

Henning Pauly - 13 Days is 13 Songs, written and recorded in 13 Days with 11 different vocalists… No key, no loops, just stuff you can do with guitars, bass drums and vocals. There is a lot to be discovered with those instruments and Henning needed the challenge.

Henning Pauly - Babysteps is now out of print, the album tells the story of Nick (Jody Ashworth, Trans Siberian Orchestra), a professional athlete, who finds himself in a wheelchair having to recover in a rehabilitation center. The struggle with his arrogant doctor (James LaBrie, Dream Theater) reaches its climax in a big fight. Matt (Matt Cash, Chain/Frameshift/Solo), another patient, tries to befriend Nick who doesn't trust people anymore. Matt introduces his physician to Nick, Dr. Sizzla (Michael Sadler, SAGA), who gives him valuable advice on how to approach his situation and his doctor. Babysteps is the story of Nick's journey on the way to recovery and the obstacles he has to overcome. Also lending their talents to this project are Ian Crichton (Guitar) and Jim Gilmour (Keys) from SAGA who both recorded phenomenal solos on this album.

Henning Pauly - Colored Lines shows Henning exploring what you can do with the classic black and white keys and ten fingers. In this world, everything needs to be expressed with dynamics, harmony and tempo. Writing this album has expanded his understanding of music as a whole.
The basic parts were conceived on a piano and the most of the details and, for him, unplayable parts, he edited in the key editor of Cubase. In this editor the notes are displayed as colored lines, hence the name of the album. it is definitely inspired by Keith Jarret's "The Koeln Concert", Riuitchie Sakamoto and others in this style.

Henning Pauly - Credit Where Credit Is Due was recorded right after the Frameshift aAoE sessions. There was some controversy around writing credits on that release, and this follow up put the question to bed of who wrote what. A fantastic ProgMetal release with Juan Roos on vocals.

Psychic for Radio - Standing Wave was the solo project from the record label president Shawn Gordon. He worked with Henning who helped compose, arrange, play and produce the album. Many influences can be found on this release from classic Genesis to OSI.

Roswell Six - Terra Incognita: A Line in The Sand bestselling author Kevin J. Anderson and ProgRock Records introduced Terra Incognita: An innovative crossover project of fantasy on a grand scale-- an epic novel and companion progressive-rock CD. Following up the success of the first effort, Anderson and ProgRock Records bring you the second Terra Incognita CD, "A Line in the Sand" to coincide with the release of the second novel, THE MAP OF ALL THINGS. Featuring a different, grittier part of the story, focusing on the devastating generations-long war between continents, and it has an entirely different sound. This time, the music is helmed by Henning Pauly (Frameshift, Chain, Shadows Mignon) who brings hard-driving guitars, passion, and thought-provoking complexity to the music. Vocals are by rock legends Steve Walsh (Kansas), Michael Sadler (ex-Saga), Sass Jordan (Album Rock's Female Vocalist of the Year), Alex Froese (Frameshift) and Nick Storr (The Third Ending), with guest appearances by Charlie Dominici, Juan Roos and Arjen A. Lucassen. As with the first CD, Anderson co-wrote all of the lyrics with his wife, bestselling author Rebecca Moesta, two of the songs, The Crown and Need, are co-written by Grammy Award-winning singer-songwriter Janis Ian.

Shadow's Mignon - Midnight Sky Masquerade is the first and only album by Shadow's Mignon that was commercially released. The music of the band is everything you would expect from the glory days of the 80's when guitar solos still screamed and vocals soared just like the eagles and dragons they were singing about. The album also features a few of the "must-have" ballads with all the classic chorusy guitars and keyboard sounds. " With Juan Roos on Vocals and Stephen Kernbach on keyboards.

Shadow's Mignon - In The Shadow of the Minion never before released. After "MIDNIGHT SKY MASQUERADE", which explored the metal of the 80s in all its facets, it was time to go back in time and look at the late 60s and 70s. Here, rock was born. Bands like, Led Zeppelin, Deep Purple, Black Sabbath, Jimi Hendrix and The Who all made history and defined a style. Shadows Mignon explores the sounds of this era and takes you on a little journey with a collection of songs inspired by this era. Vocals are handled by Adrian O'Shaughnessy, Alex Froese and Benny Koerppert. The drums were recorded by Klaus Tropp and defined the album. The were actually the foundation, because they were recorded, to a click, before any songs were written. They were never edited… these "One Takes" were used to write the whole album around them. So, in a sense, the album was written by Klaus.

Shadows Mignon - The Minion Rises Live never before released. This is the live album that never was. Shadow's Mignon brings you 11 new songs, a live version of one song from each previous Mignon album and a live version of a song from the second Frameshift album (Push the Button). The 11 new songs don't exist in any studio versions and can only be heard in these live renditions. The vocals were all handled by Adrian O'Shaugnessy again who also wrote all the vocal lines and lyrics. The is no "production" or "post-production" going on here… two guitars tracks, bass, drums and vocals. This is the rawest form of a rock band.