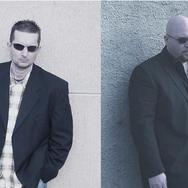 A chance meeting of artists in 2004 on an internet message board brought together Ronald Wahle of the Netherlands with Chris Brown of Tennessee. What spawned from that meeting is the highly evolved progressive rock duo, Ghost Circus. Two years of collaboration culminated with the duo's first album in 2006, 'Cycles', and now in 2008 with 'Across The Line'.

Ronald Wahle is a self taught drummer, keyboard player and guitarist who has worked primarily in local bands and film/promo scores. With influences such as Marillion, Porcupine Tree, Genesis, Pink Floyd, Peter Gabriel, Tears for Fears, and The Fixx, Ronald's linear orchestral flow and electric melodies are featured throughout alongside his guitar melodies and powerful percussion.

Chris Brown also taught himself to play guitar, bass, and keyboards and honed his vocal skills to perform on 'Cycles' and now on 'Across The Line'. He has primarily focused on his solo acoustic guitar career and released a solo album in 2003 along with a side project album, Random Access Generator, also in 2003. Chris pulls his influences from current and classic eras of Progressive music, the "Art Pop" and Alternative styles of the 80's, and a solid dose of Metal, which combines a harder edge and structure to the fluid melodies of his counterpart.

Together, Ronald Wahle and Chris Brown bring an eclectic approach to progressive rock that is unique yet comforting to all of those who love music.
Artist website