Henning Pauly > Shadow's Mignon Three Pack (digital)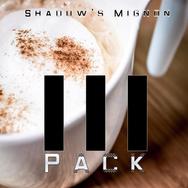 Buy
Price:
$19.98
(PayPal is the only payment option. Download link will be emailed to you after ordering)

This special digital collection contains the 1 released and 2 unreleased albums that Henning Pauly did under the Shadow's Mignon moniker. In this package we include:

Midnight Sky Masquerade - The first and only one that was commercially released. The music of the band is everything you would expect from the glory days of the 80's when guitar solos still screamed and vocals soared just like the eagles and dragons they were singing about. The album also features a few of the "must-have" ballads with all the classic chorusy guitars and keyboard sounds. " With Juan Roos on Vocals and Stephen Kernbach on keyboards.

In The Shadow of the Minion - Never before released. After "MIDNIGHT SKY MASQUERADE", which explored the metal of the 80s in all its facets, it was time to go back in time and look at the late 60s and 70s. Here, rock was born. Bands like, Led Zeppelin, Deep Purple, Black Sabbath, Jimi Hendrix and The Who all made history and defined a style. Shadows Mignon explores the sounds of this era and takes you on a little journey with a collection of songs inspired by this era. Vocals are handled by Adrian O'Shaughnessy, Alex Froese and Benny Koerppert. The drums were recorded by Klaus Tropp and defined the album. The were actually the foundation, because they were recorded, to a click, before any songs were written. They were never edited… these "One Takes" were used to write the whole album around them. So, in a sense, the album was written by Klaus.

The Minion Rises Live - Never before released. This is the live album that never was. Shadow's Mignon brings you 11 new songs, a live version of one song from each previous Mignon album and a live version of a song from the second Frameshift album (Push the Button). The 11 new songs don't exist in any studio versions and can only be heard in these live renditions. The vocals were all handled by Adrian O'Shaugnessy again who also wrote all the vocal lines and lyrics. The is no "production" or "post-production" going on here… two guitars tracks, bass, drums and vocals. This is the rawest form of a rock band.