Henning Pauly > Henning Pauly Super Bundle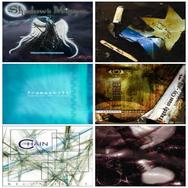 Buy
Price:
$44.95
This special priced bundle of Henning Pauly releases includes 5 CD's and 1 DVD, is a savings of $20 if bought separately. It includes the following releases, by clicking on each release name you can see details and hear samples from each release:

Chain - Reconstruct was one of the first releases on ProgRock Records and introduced Henning Pauly and his amazing skill as a composer, arranger, multi-instrumentalist and producer to the world.

Chain - Chain.exe DVD contains 4 hours of behind the scenes and interviews during the making of the 2nd Chain album "chain.exe" as well as vintage footage of Henning during his days at Berklee.

Frameshift - Unweaving the Rainbow with James LaBrie (Dream Theater) on vocals. This album broke new ground for Henning as well as LaBrie, where his vocals were the focus of the compositions with lush harmonies, modern production techniques and unique songwriting. This version is autographed by both Henning and James.

Frameshift - An Absence of Empathy sees a return to the Frameshift concept, but this time with Sebastian Bach ex-Skid Row on vocals. This is the best vocal performance ever put to tape by Bach with an intense musical concept and heavy yet catchy songs.

Henning Pauly - Credit Where Credit Is Due was recorded right after the Frameshift aAoE sessions. There was some controversy around writing credits on that release, and this follow up put the question to bed of who wrote what. A fantastic ProgMetal release with Juan Roos on vocals.

Shadow's Mignon - Midnight Sky Masquerade saw Henning team back up with his Chain bandmate Stephan Kernbach and CWCID vocalist Juan Roos to record a homage to all that great classic metal music from the 1980's. This is a wonderful romp through memory lane of that style you love so much.