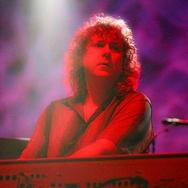 Jim Gilmour was born in Carfin, Scotland, but his musical journey began in Toronto, Canada, at the age of 9 when he got his first instrument – the accordion. The spotlight of the world stage was also shining in his direction and Jim responded by competing in several accordion competitions in North America, where he once finished in second place.

With a passion for learning and performing music, Jim diversified his interests, and at age 17, he began taking lessons and practicing the piano and the clarinet. Around the same time, he also enrolled in the Faculty of Music program at the University of Toronto, and attended opera school. Little did he know what was waiting around the corner – a dream come true.

Inspired by Eddie Jobson of the progressive rock band UK, Jim bought his first synthesizer - a Yamaha CS-80. After a brief stint as the lead vocalist/keyboardist in a Prog -Jazz quintet that featured the songs of Gentle Giant and Steely Dan, Jim was asked to join SAGA. Eager to demonstrate his abilities, he entered the studio and added his signature playing style to the group's third album "Silent Knight". Not bad for a guy in his early 20's.

Jim's first performance with SAGA was in front of a sold out audience of fans, friends and family at the legendary Maple Leaf Gardens, in Toronto. To avoid confusion onstage with fellow band mate Jim Crichton, Jim was nicknamed Daryl after the Canadian ice hockey legend Daryl Sittler – the former Captain of the Toronto Maple Leafs.

In 1981, after months of touring and concerts, SAGA recorded "Worlds Apart" which included the international hit "On the Loose". The bands first live recording "In Transit" was followed by the "Heads Or Tales" album, and Jim's greatest musical moment: "Scratching the Surface" - a high energy song full of pulsating rhythms that quickly became a worldwide hit, and an instant fan favorite. After releasing the album "Behaviour", SAGA decided to take a long and deserved break. Always moving forward, Jim, Steve Negus and singer Robert Bevan formed GNP. The result was an album titled "Safety Zone", released on Virgin Records, in 1987.

After a six-year hiatus, SAGA reunited and entered an extensive period of innovation and creativity. The band released the energetic "The Security Of Illusion", completed "Generation 13", a seventy-minute musical extravaganza, and recorded "Steel Umbrellas", the soundtrack to a U.S. television series called Cobra. In between, Jim also managed to write and produce his first solo recording "Instrumental Encounters". In 1997, the band celebrated their 20th Anniversary with the CD's "Pleasure & the Pain" and their long awaited second live album "Detours". The new millennium saw SAGA return to the distinctive sound of their legendary hits with "Full Circle", "House of Cards'', "Marathon" and "Network" - a series of new recordings featuring colorful keyboard sounds and roaring guitars. DVD releases "Silhouette", "All Areas" and "Marathon World Tour 2004 –The Official Bootleg" provided fans with a visual experience to compliment the bands music catalogue.

Admired by professional musicians worldwide, Jim is an accomplished multi-instrumentalist who plays keyboards, clarinet, sax and the accordion. He is also a critically acclaimed vocalist with a diversity of singing styles. His interests and influences include Keith Emerson, Pat Metheny, Bill Evans and new artists such as Thievery Corporation. He has been featured several times in Keyboard magazine and has been honored for his distinguished career in music by the Prime Minister of Canada and the Premier of Ontario.
Artist website