Moon Safari > The Gettysburg Address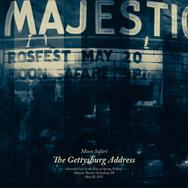 Reviews
The big question surrounding the band was if they would be able to replicate their often intricate...

What to say in general about this release? Well, the recordings just left me speechless. Everything...

Read all
The Gettysburg Address is Moon Safari fourth release. This one is a Live recording from their epic performance at the Majestic Theatre in Gettysburg, PA, at Rosfest 2011. The 2-discs feature some of their most popular songs from all three studio albums. The quality of the recording is superb, and this is certainly the perfect introduction for new fans of the band and a must-buy for Moon Safari's devoted followers. Live is where their songs really come to life!
Album tracks
1 - CD1 - Moonwalk
2 - CD1 - Lover's End - Part 1
3 - CD1 - A Kid Called Panic
4 - CD1 - Yasgurs Farm
5 - CD1 - The Worlds Best Dreamers
6 - CD2 - Dance Across The Ocean
7 - CD2 - Heartland
8 - CD2 - New York City Summergirl
9 - CD2 - Other Half of the Sky
Album samples