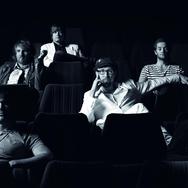 Call them a progressive band with pop influences, or a pop band with progressive influences. Either way, with their upbeat songwriting and vast melodic sense, Moon Safari has been blowing audiences minds since their debut album "A doorway to summer" released 2005.

That time, under the guidance of Tomas Bodin of the Flower Kings, the younglings sent a ripple through the prog community. Shouting from the rooftops in five part harmonies: "there are some new kids on the block". The progressive world heeded the call and "A doorway..." was acclaimed by critics and fans alike.

With the sophomore effort "Blomljud", released in 2008, the band had taken another step. With an array of influences from bands and artists like The Beatles, 10cc, Bruce Springsteen, Supertramp, IQ and Marillion mixed with 50's vocal groups like The Hi Lo's, Moon Safari once again made their mark on the community. This time it was more of a tsunami than a ripple.

The double album "Blomljud" was by many considered "Album of the year" and Moon Safari won an award at the Independent Music Awards for the song "In the countryside". Following the success, Moon Safari played in front of ecstatic crowds at the Prog Resiste Convention in Belgium, both in 2008 and 2010. At the Symforce III-festival in Holland in 2009, and at Winter's End in England 2010.

In November 2010 parched critics were once again commanded to the well of beauty and freedom as we then saw the release of Lover's End, the third album from the vocal fashionistas. It has received massive praise from both press and fans. It is certainly the strongest, the most focused and the most determined work they've mustered up in their relatively short existence, and the addition of Sebastian Åkesson to the line-up has the band shooting at the moon even in a live setting.

With this release, The Gettysburg Address, a live recording From Rosfest 2011, it's now even more obvious that this band possesses magic qualities, and that these qualities transferes their studio sound into something even more majestic on stage. It's a great way to start exploring Moon Safari's music and it's certainly a great addition to any record collection that already includes their first three albums. In 2012 the band will also release a fourth studio album. Rumour has it that this release will be truly epic.
Artist website