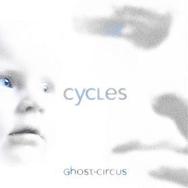 Buy
Price:
$2.95
Reviews
French review...

...When it comes to the more 'progressive' tracks, "Mass Suggestion: Parts 1 & 2" sums up...

...Let me start out by saying, I really like this CD. The music is part Art-Rock, part Prog-Rock...

ProgRock Records has done a remarkable job bringing underground progressive rock projects such as...

Read all
A chance meeting of artists in 2004 on an internet message board brought together Ronald Wahle of the Netherlands with Chris Brown of Tennessee. What spawned from that meeting is the highly evolved progressive rock duo, Ghost Circus. Two years of collaboration culminates in the duo's first album, 'Cycles', which highlights a detailed look at modern society as well as personal introspective struggles.
Album tracks
1 - 01. Broken Glass
2 - 02. Cycles
3 - 03. Trick of the Light
4 - 04. The Distance
5 - 05. Accelerate
6 - 06. Let It Flow
7 - 07. Send - Return
8 - 08. Mass Suggestion - part 1
9 - 09. Mass Suggestion - part 2
Album samples