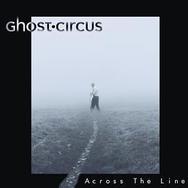 Buy
Price:
$2.95
Reviews
...In contrast with its predecessor, "Across The Line" sounds more mature. Although it continues in...

French review...

Italian review...

...Ghost Circus typify the current outlook of the genre- unafraid to take chances, putting all...

Read all
Their ambitious second album, ACROSS THE LINE, is a concept album following one man's path from death to the hereafter; a ghost story from a unique perspective. Combining elements of AOR and Progressive Rock, there is a lot to enjoy here. Significant equipment upgrades to both studios has allowed for a wider and more accurate expression of the duos' unusual musical vision. ACROSS THE LINE proves that Ghost Circus has melded into a cohesive blend of the eclectic talents of Chris Brown and Ronald Wahle.
Album tracks
1 - 1. Reflection
2 - 2. Pathway
3 - 3. Holding On
4 - 4. To Be
5 - 5. Losing Time
6 - 6. Through The Darkness
7 - 7. Through The Light
8 - 8. Across The Line
Album samples