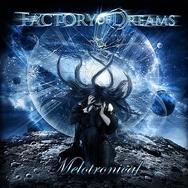 Reviews
This said there is not a really any weakspot on the album and the mixture of space/goth sounds work...

Interview with Hugo and Jessica...

Whether its the synth-percussion, the fluent guitar riffs, or the overwhelming dynamic energy of...

Influences from Nightwish, Epica, Ayreon, and Devin Townsend abound on Melotronical. Lehto once...

Read all
MELOTRONICAL is the 3rd Factory of Dreams album. A conceptual CD, revolving around the evolution of an electronic Molecule into a living breathing Entity. This entity, experiences several stages of life, goes through all emotions, love, hate, fear, happiness... The track list is arranged according to this evolution, and one can have a feel of each stage just by reading each song title, listening to the songs and lyrics. The finale starts with Dimension Crusher, when all hope is lost and a new Universe is idealized through Reprogramming.

Jessica's voice reaches levels never before heard and this time, so the story demanded, Hugo also performs vocals on some tracks providing a more aggressive feel to support the storyline.

MELOTRONICAL pushes and goes far beyond the boundaries of the Electronic Progressive Metal genre, and while it is certainly Hugo's and Factory of Dreams' heaviest album, it still retains the fingerprint of Factory of Dreams' sound, with heavy passages balanced by atmospheric parts, rhythmical changes and instrumental sections that are sure to delight all who appreciate the genre.

Track highlights are the epic Protonic Stream, the brutal but catchy Obsessical, the beautiful and atmospheric Back to sleep and the explosive Dimension Crusher. Hugo also decided to remake an older song called Something Calling Me, now revamped by Jessica's voice.

Promo video:



Official music video of "Back to Sleep"


Album tracks
1 - 01. Enter Nucleon
2 - 02. Melotronical
3 - 03. A Taste of Paradise
4 - 04. Protonic Stream
5 - 05. Into Oblivion
6 - 06. Obsessical
7 - 07. Back to Sleep
8 - 08. Whispering Eyes
9 - 09. Subatomic Tears
10 - 10. Dimension Crusher
11 - 11. Echoes from Earth
12 - 12. Something Calling Me
13 - 13. Reprogramming
Album samples