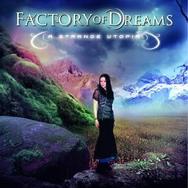 Reviews
As with their debut album a year earlier, 2009's 'A Strange Utopia' features Jessica Lehto on...

Interview with Hugo...

Interview with Hugo and Jessica...

Download the music video here....

Read all
Factory of Dreams is a symphonic metal gothic project consisting of Hugo Flores and Jessica Lehto. Hugo produces and creates all the music while Jessica provides her beautiful vocals. Following their album POLES in 2008, Factory of Dreams are back with a new production bringing a whole new epic and progressive feel to the sound crafted on their debut. More complex, heavier, faster and at the same time catchy, this is a huge album, featuring the hallmark of Factory of Dreams, with great melodic sense and shivering moments and a great cast of guest singers and performers.
As a highlight, the near 10 minute Epic E-motions, and the beautiful track Sonic Sensations depicting a World created by Sound and Music.
Album tracks
0 - Medley
1 - 01. Voyage to Utopia
2 - 02. The Weight of The World
3 - 03. Inner Station
4 - 04. Sonic Sensations
5 - 05. The Road Around Saturn
6 - 06. Garden of all Seasons
7 - 07. Dark Utopia
8 - 08. Vacation in Venus
9 - 09. Chaotic Order
10 - 10. Slow Motion World
11 - 11. Destructible Destruction
12 - 12. E-Motions
13 - 13. Broken
14 - 14. The Weight of The World (radio edit)
Album samples