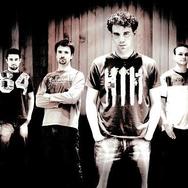 "The Third Ending was formed in mid 2002 when three like-minded friends and musicians Andrew Curtis, Andrew Knott and Cornel Ianculovici were introduced to singer Nick Storr via a mutual friend. Over the course of a winter's evening swapping musical ideas and six-packs of beer, the seed that was to become The Third Ending was sown.

For the next two years, in between attending to work and other musical commitments, the group began to put together the songs that would ultimately comprise their first album. The collaborative process played off the various strengths of each member, tied together with a cohesive vision rarely found in four such diverse musical personalities.

The Third Ending have drawn from a wide range of influences within the vintage and modern progressive rock genre, including bands such as Porcupine Tree, Pink Floyd, Spock's Beard, and Dream Theater, but have created their own unique blend of styles to produce something entirely new and fresh"
Artist website