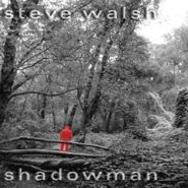 Buy
Price:
$3.00
Reviews
...The first song puts the pedal to the medal right away. "Rise" is a prog-metal blast similar to...

..."Hell is Full of Heros" returns to the modern production and heavy sound, with lyrics that cover...

...The Bloody Truth: Steve has a fine release here. Fans of Kansas, especially the less...

...True, most of Kansas's hits were written by Kerry Livgren, but Walsh has also had a very...

Read all
Shadowman was originally released by Walsh in 2005 but didn't get the attention it deserved. This new release has all the original tracks with Walsh, but also includes 2 bonus tracks recorded in 2007 with most of the same musicians:

Steve Walsh: Vocals, Keyboards
Joel Kosche (Collective Soul): Guitar, Bass
David Ragsdale (Kansas): Violin
Joe Franco: Drums
Michael Romeo (Symphony X): Orchestration

Steve Walsh memorabilia can be purchased at stevewalshrocks
Album tracks
1 - 01. Rise
2 - 02. Shadowman
3 - 03. Davey and the stone that rolled away
4 - 04. Keep on Knockin
5 - 05. Pages of Old
6 - 06. Hell is full of heroes
7 - 07. After
8 - 08. The River
9 - 09. Faule dr Roane (bonus track)
10 - 10. Dark Day (bonus track)
Album samples