Presto Ballet > Relic Of The Modern World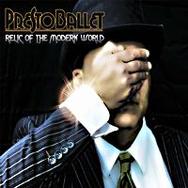 Reviews
I had the opportunity to see Presto Ballet live at Calprog a few years back and have to say I...

Made up of four normal length songs and the epic 20 minute title track, this latest release makes...

Read all
With the release of the new album "Relic Of The Modern World" Presto Ballet welcomes new lead vocalist Chuck Campbell. Chuck brings a great "classic rock" edge to the band. A bit of grit, soul and emotion that adds new element to the Presto Ballet sound.

Presto's keyboard wizard Kerry Shacklett has contributed a beautiful piano piece written by Kerry, which is a beautiful set up to the 19 minute long title track of the album.

Rounding out the line-up is veteran bassist Bobby Ferkovich and new drummer Chris G.

"Relic Of The Modern World" is the band's first real epic musical endeavor. It also sets up the next record, which will be a double concept album that will continue the story
introduced on "Relic".
Album tracks
1 - The Chemical Age
2 - Watching The Radio
3 - Broken Toys
4 - Prelude to Farewell
5 - Relic Of The Modern World
Album samples