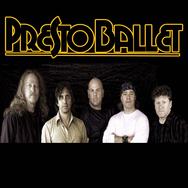 An immense supporter of the early works of Yes, Kansas, and Genesis (among others), Metal Church guitarist Kurdt Vanderhoof sought to create a project that reflected his
predilection of that era and he has undoubtedly achieved that objective with Presto Ballet.

Evoking a classic 70's feel, their songs herald a return to a time when music was at its most colorful and influential. With tasteful guitar parts, crunching Hammond organ and rich vocals, the band follows a path previously tread by rock pioneers such as Kansas, Yes, Genesis and Deep Purple. "For me, the seventies were the most interesting time musically, with the most skilled bands, the best songs and the best ideas", says Vanderhoof. "I've never understood why nobody has gone back to that kind of music again".

With the release of the new album "Relic Of The Modern World" Presto Ballet welcomes new lead vocalist Chuck Campbell. Chuck brings a great "classic rock" edge to the band. A bit of grit, soul and emotion that adds new element to the Presto Ballet sound.

Presto's keyboard wizard Kerry Shacklett has contributed a beautiful piano piece written by Kerry, which is a beautiful set up to the 19 minute long title track of the album.

Rounding out the line-up is veteran bassist Bobby Ferkovich and new drummer Chris G.

"Relic Of The Modern World" is the band's first real epic musical endeavor. It also sets up the next record, which will be a double concept album that will continue the story
introduced on "Relic".

"Relic Of The Modern World" is another classic installment of the Presto Ballet body of work and stays true to the "old school" way of creating music. No digital instruments are ever used in Presto Ballet's recordings, keeping things as organic as possible, always.
Artist website