PBII > Plastic Soup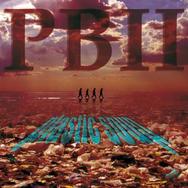 Reviews
Plastic Soup is the convincing debut effort by the seasoned musicians that make up PBII, a direct...

n the 70s and 80s a so-called symphonic rock band was wandering into the Dutch scene under the name...

PBII started off in the seventies and eighties as the band Blackband. Nickname they earned back...

...Listening to PBII their debut-CD entitled Plastic Soup, I got more and more impressed, what an...

Read all
Plastic Soup is the first album of the new Dutch Progressive rock band PBII, the successor to the well known Plackband of the 70's and 80's, often called the Dutch Genesis. Plastic Soup however, has a sound that is absolutely 2010: modern, fresh and rocky but still with some great symphonic influences of the past. Stylistically, you could place it somewhere between Spocks Beard, Porcupine Tree, Frost*, Marilion, Linkin Park and Genesis. Special guests include John Mitchell (Arena, It Bites, Frost*), John Jowitt (IQ, Frost*) and Heidi Jo Hines (daughter of Denny Laine of Wings. Though not a concept album, the central theme of the album is the environment. Plastic Soup is another name for the Great Pacific Garbage Patch, floating in the ocean with a size twice that of the US. Discoverer of this plastic soup is captain Charles Moore, who also did some voice overs on the album. PBII wishes to get more attention to this environmental problem.

Music video from the album:



A great live review

Album tracks
1 - 01. Book of Changes
2 - 02. In the Arms of a Gemini
3 - 03. Ladrillo
4 - 04. Loneliness
5 - 05. The Great Pacific Garbage Patch
6 - 06. Criticize the Critics
7 - 07. It's Your Life
8 - 08. Fata Morgana
9 - 09. Living by the Dice
10 - 10. Cradle to Cradle
Album samples