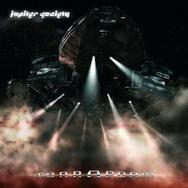 Buy
Price:
$5.00
Reviews
If Ray Bradbury decided to form a prog metal band, it would sound like Jupiter Society, and that...

...Carl Westholm and his associates manage to create their own universe within this niche. The most...

Hmmmm…this I like a whole lot!!! Presenting an elaborate, very intelligent and original blend...

Carl Westholm has the privilege to be equally known to two -in first sight - distant metal genres...

Read all
Jupiter Society first launched in 2008 with the album "First Contact // Last Warning". The man behind this project and also the chairman of the Society, is Carl Westholm, previously known from Carptree, Krux and Candlemass. The idea about this epic concept albums is far older than that, the idea took
form more then 10 years ago in Carls mind but did not come to life before 2007 when he was not busy with other projects.

Now in 2009, Jupiter Society releases the sequel called "Terraform" again with a lot of prominent fellow musicians like the last time, slightly different crew this time with Kulle and Marcus Jidell (Royal Hunt) on lead guitars, and Lars Sköld (Tiamat) on Drums and also Christer Jansson (Roxette among
many others) on additional Drums. Mats Levén (krux, ex Therion, ex T.Malmsteen and others) and Leif Edling (Candlemass, Krux) are still members of the society among others.
Album tracks
1 - 01. New Universe
2 - 02. Rescue and Resurrection
3 - 03. Cranial Implant
4 - 04. Into The Dark
5 - 05. Siren Song/Black Hole
6 - 06. Terraforming
7 - 07. Beyond These Walls You Are Not My Master
Album samples