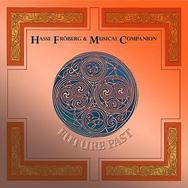 Buy
Price:
$5.95
Reviews
Like the rest of his fellow bandmates, Hasse Fröberg has taken the occasion of a hiatus in the...

Interview with Hasse...

...I must admit that I had no high expectations of the first solo album by Hasse Fröberg, mainly...

Hasse Froberg is the voice of the Flower Kings. This is his debut solo album with a lineup of band...

Read all
Hasse Fröberg from The Flower Kings has put together a stunning debut album. 72 minutes of stellar performance, top notch production and catchy songs within a progressive environment. Some would say it sounds like, Yes, Led Zeppelin, Deep Purple, The Flower Kings some just say, HFMC. Amazing guitar performance by young gunslinger Anton Lindsjo throughout the whole cd reveals the raw talent of this "new kid on the block" from Sweden. A classy Classic/Progressive Rock cd from the land of the midnight sun.
Album tracks
0 - Sampler track
0 - Fallen Empire
0 - Song For July
0 - Piece of the Sky
0 - I Wouldn't Change a Thing
0 - Above
0 - Everyday
0 - The Ultimate Thrill
0 - Only My Blood
Album samples