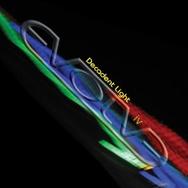 Buy
Price:
$2.95
Reviews
Evolve IV take their influences from classic prog bands such as Genesis, Pink Floyd and Yes, and...

Peter Matuchniak (lead guitar and keyboards), Michael Eager (rhythm guitar and vocals), Paul...

...Well, it's a nice blend of styles, characteristic of bands that come from USA in the XXIst...

French review...

Read all
Featured CD for February 2010.

"Intense, inventive and melodic…a triple-threat tour-de-force of solid musicianship, strong song-craft and remarkable production quality. Highly recommended," writes Nick Tate (Progression Magazine) in his review of Evolve IV's debut album Decadent Light. Jerry Lucky (Progressive Rock Files), describes their music as "…the essence of a classic progressive rock sound…tunes that ebb and flow between fast and slow, intense and atmospheric, vocals and instrumental soloing…will appeal to wide cross section of music lovers."

Check out their YouTube channel here.
Album tracks
0 - War (full track)
0 - Sampler track
1 - 01. Number 16
2 - 02. War
3 - 03. Listen Up
4 - 04. Judgement Day
5 - 05. Rolling Along
6 - 06. Saturday's Gone
7 - 07. Must Have Been The Future
8 - 08. Baby Come Back
9 - 09. Voyager
10 - 10. Write
11 - 11. Goodbye
Album samples