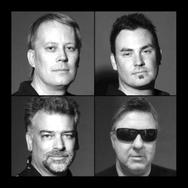 Evolve IV was founded by two seasoned progressive musicians from either side of the Atlantic, Peter Matuchniak from the UK and Michael Eager from the USA. They formed a strong song-writing partnership that provides a fresh take on the modern progressive scene, whilst leaning on their combined experiences with past bands on either side of the pond.

Lead guitarist Peter was part of the UK neo-progressive rock scene from the 1980's with bands Mach One and Janysium, that attracted attention from press agent Keith Goodwin (Marillion, Yes, etc.), with reviews featuring in top British music papers for their tour of London clubs and English Universities. Singer and rhythm guitarist Michael toured extensively across the United States throughout the 1990's with Vitamin Funk, Mind Expansion and HED, bands that he had formed while living in Boston and Seattle respectively.

The pair was joined by drummer Paul Sheriff and bassist Jim DeBaun, all of whom met while answering internet ads, with a common goal to record music that evolved naturally out of their influences, past (Genesis, Pink Floyd, Yes, Grateful Dead, Beatles) and present (Coldplay, Killers, Radiohead).

In 2008 Evolve IV released their debut CD "Decadent Light" and the reviews have been overwhelmingly positive.

Joining them were various guest musicians, such as David Gilman on sax, flute and violin, and Tali Azerad providing female backing vocals. David features in a number of bands in the Los Angeles area, while Tali is known for her outstanding rendition of "A Great Gig In The Sky" when touring with Which One's Pink, a tribute to Pink Floyd. Evolve IV's debut CD was mastered to John Vestman, a veteran of the L.A. scene who had recently mastered George Duke's Grammy nominated CD.

Evolve IV's serious approach belies the light-hearted nature that bonds these musicians together, sparking a lot of creativity and output. In fact, recording for a follow up CD is already well under way with a release date due for later in 2009, which will showcase the intricate instrumental passages and sharp compositions that underscore the progressive nature of their debut CD "Decadent Light".
Artist website