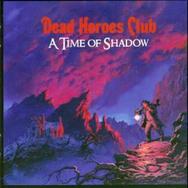 Buy
Price:
$2.95
Reviews
Interview with the band...

Dead Heroes Club claim to be the sole Irish progressive rock band, and indeed apart from the...

...Within the musical composition, the emphasis seems three-fold: melody converging with Campbell's...

...The emotion in is voice is palpable giving shivers down my spine every time I play it. My...

Read all
'A Time of Shadow' is Irish progressive rock band Dead Heroes Club's second album. The album is a tour de force of melody and power. The band have a wonderful sound and an identity all of their own, but the discerning listener can detect the Genesis and Pink Floyd influences. Vocalist Liam Campbell has a Peter Gabriel quality to his voice and sings with similar conviction. Some of the songs on the album are bordering on the epic: 'Theatre of the Absurd' and 'A Gathering of Crows' are extended songs which showcase the band's musicality, and the title-track, coming in at over 15 minutes long, is a moody, atmospheric and profoundly imaginative work that takes the album out on a high of power and emotion. Others are shorter pieces that offer explosive or reflective music in turn, but each song is driven by melody and emotion.
Album tracks
1 - 1. Theatre of the Absurd
2 - 2. Stranger in the Looking Glass
3 - 3. The Centre Cannot Hold
4 - 4. A Gathering of Crows
5 - 5. The Sleepers Are Waking
6 - 6. A Time of Shadow
Album samples