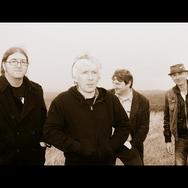 An Irish Progressive Rock Band? Surely Not!
Almost certainly Ireland's only progressive rock band, DEAD HEROES CLUB offer us 21st century prog-rock.

Dead Heroes Club hail from the Walled City of Derry in the North of Ireland. Although as one rock critic points out "the blood of Genesis, Yes, King Crimson, Tull, Pink Floyd and others floods their veins', Dead Heroes Club manage to achieve an original and inventive approach to their music. Beyond the prog-rock tag, however, the band describe themselves as belonging to the "song for song's sake' category of music, and it becomes clear from the first listen that melody, passion and power are the band's watchwords. The lyrics too are a leading component of the band's compositional make up, and in a sense Dead Heroes Club's new album "A Time of Shadow' could be described as a lyrical album - the song "The Centre Cannot Hold', for example, was inspired by Irish poet W.B. Yeats. Indeed far from being flights of fantasy, the band's songs are grounded in reality, dealing with issues or themes that reflect the world today.

The members of Dead Heroes Club have come together from various corners of the musical past with one thing in common: the love of experimental and progressive music. Composing music under the philosophy of "let the music lead the way', Dead Heroes Club have a lot in common with the progressive rock giants of the past, and yet they have something new and fresh to offer. The band, right from the off, were consumed by a desire to create music and songs that could stir the imagination and ignite the soul – the band's latest (and second) album offering "A Time of Shadow'(cover design by official J.R.R. Tolkien illustrator Ted Nasmith) is testimony to that. Speaking of the "A Time of Shadow' album, Dean Pedley of Sea of Tranquillity reviews states: "whilst there are still bands such as Dead Heroes Club around then the future generation of classic prog seems very much assured. In short, this [album] is a triumph'. Other notable music critics such as Craig Hartranft have been won over by the band's heady mix of classic prog influences and innovative melodic power: "finding Dead Heroes Club's A Time Of Shadow is a true delight. DHC combines impressive and creative progressive rock, steeped in the classic tradition, with brilliant lyrics to creative a distinct and enjoyable masterpiece.
Artist website