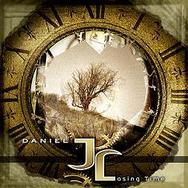 Buy
Price:
$2.95
Reviews
Is the name Daniel Jakubovic ringing a bell to you? No? What about Jordan Rudess?. Well, the...

Discovered by Jordan Rudess, guitarist/songwriter/multi-instrumentalist/producer Daniel J (Daniel...

Italian review...

...Going back to the musicians, Dream Theater's keyboardist Jordan Rudess helps out on keyboards on...

Read all
Daniel J works on each guitar solo, as if it were a composition. He takes hours preparing and practissing until he is totally satisfied with each solo. He never leaves it to an improvising chance in the studio.

"Losing Time" is an album with a lot of power and intensity, but always with a sense of melody. The songs and lyrics speak about the things we all deal with in relationships, you will no doubt see some of yourself in these well crafted songs.

Daniel J had the opportunity to see a musical giant at his best while beeing present at Jordan Rudess's studio and watching Jordan recording some trully extraordinarry keyboards on the Daniel's songs. Jordan had this to say about Daniel:

"Daniel J is among the most talented musicians I have ever met. From the moment I first heard his music I knew that this was a young person that I wanted to not only support, but have involved in my own music! Now it's time for all of you to discover Daniel as well. Enjoy his music and his talent on this release and join me as we begin to follow the career of an outstanding musician."

Fans of Kings X and Dream Theater will certainly enjoy this album.
Album tracks
1 - 01 - Black
2 - 02 - Theories In Her Head
3 - 03 - End of Summer
4 - 04 - Losing Time
5 - 05 - Insane
6 - 06 - Xited
7 - 07 - All The Same For You
8 - 08 - The Best
9 - 09 - Save Me
10 - 10 - Innocence
11 - 11 - Replaced
12 - 12 - Out Of Reach
13 - 13 - Rush
Album samples