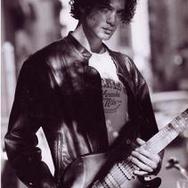 Born March 13, 1982 in Israel, Daniel J has exploded onto the music scene as a multitalented musician, producer, singer, songwriter, guitarist, drummer, and bass player.

The son of Jaroslav Jakubovic, a professional musician, Daniel has been surrounded by and intrigued with music his entire life. While growing up, he spent a lot of time in various recording studios and backstage at live concerts. He took guitar lessons at age 10 and also studied music theory with his father. Daniel's early influences included Metallica, Dream Theater, and YES.

At the age of 15 Daniel arranged, produced and played keyboard, bass, guitar and drums on his father's solo saxophone album of famous commercials tunes, which was a great success.

Upon his arrival in New York, Daniel was fortunate to meet one of his musical heroes, Jordan Rudess, the great keyboardist from the supergroup Dream Theater. Jordan was impressed by Daniel's talent and asked him to play the guitar on his solo album "Rhythm of Time," along with such greats as Joe Satriani, Vinnie Moore, Steve Morse, and more. When Daniel recorded his own first solo album, it featured some outstanding keyboard solos by Jordan - and it was Jordan Rudess who gave Daniel J his first big break.

It was through James LaBries involvement with the first Frameshift album that lead bandmate Jordan to us here at ProgRock Records, and boy are we glad he did.
Artist website