Chain > chain.exe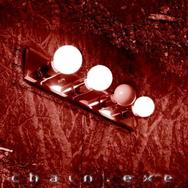 Reviews
...Overall the album is very strong and solid. Probably the strongest in 2004, although there are a...

...The first track ''Cities'' weighs in at a hefty thirty eight minutes and quite honestly...

...Paulys' musical ideas also seem to incorporate the unexpected, just when you are grasping one of...

...Chain.exe is very different from Reconstruct, the previous album: it shows a metal side that...

Read all
Chain's second album "chain.exe" is now upon us. After the work on this CD had to be put on hold for the production of the critically acclaimed "Frameshift", featuring Dream Theater's James LaBrie, Henning Pauly has finished the follow up album. This time around he could gather some amazing musicians to help him make this CD a more impressive progressive metal experience. Among the musicians are Michael Sadler, lead singer from SAGA, and Mike Keneally (Frank Zappa, Steve Vai, Mullmuzzler, Beer for Dolphins, etc.) who lends his voice and guitar skills to the last track on the album. Sadler is singing on an already highly praised cover version of Saga's own "Hot to Cold" together with Chain's lead singer Matt Cash and Maya Haddi, who will also be singing together with Sadler on the upcoming double CD rock opera "Babysteps", which will be released in late 2004.


The Limited Edition includes a nearly 4 hour DVD which can also be purchased separately here.



Album tracks
0 - Hot to Cold (Saga cover tune)
0 - She Looks Like You
0 - Never Leave the Past Behind
0 - Eama Hut
1 - Cities part 1
2 - Cities part 2
3 - Cities part 3
4 - Cities part 4
5 - Cities part 5
6 - Cities part 6
7 - Cities part 7
8 - Cities part 8
9 - Cities part 9
Album samples