arK > Wild Untamed Imaginings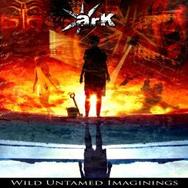 Buy
Price:
$5.95
Reviews
Interview with Steve Harris...

OK, time for a history lesson – so pay attention as I might ask questions later. Ark came into...

The highlights come thick and fast, with "Coats Of Red", having the military feel that title...

Here's a hidden Gem of an album, Broadly speaking it only just scrapes into the "Prog" category as...

Read all
As well as being a line from the song 'New Scientist', 'Wild Untamed Imaginings' is an apt title for this collection of story based songs. From the adventure of a child's mind at the excitement of going on holiday, to a chance meeting full of possibilities that can never be anything more, from ordinary people caught in an extraordinary conflict to what might lurk behind those suburban net curtains, to leaving the earth to escape man made destruction, each song tells a different tale. Mixing folk, hard and progressive rock to evoke the storylines, arK's unique line-up, including flute and guitar synth rather than a keyboard player, which gives the band a signature sound all of their own, yet distinctly English.

Album cover artist is Antonio Seijas. A native of Ares in Spain, Seijas graduated in Art from the University of Santiago de Compostela University. He first contributed artwork for an album in 2005 for Norwegian rock band, Gazpacho ('Firebird'). Gazpacho were so enthused with his work that in 2007, they invited him to provide all the artwork for their 2007 release "Night" and again for 2009's "Tick Tock". He has also provided the artwork for Marillion's double album "Happiness is the Road", including the deluxe edition, with two booklets of almost 100 pages of illustrations. He has also has worked on the Steve Rothery and Hannah Stobart project The Wishing Tree and their album "Ostara". arK considered Antoion's work perfect for the story based songs of Wild Untamed Imaginings.
Album tracks
1 - 1. Boudicca's Chariot
2 - 2. Coats of Red
3 - 3. Flagday
4 - 4. New Scientist
5 - 5. Hagley
6 - 6. Gaia
7 - 7. 8th Deadly Sin
8 - 8. Change pt 2
9 - 9. So You Finally Made It
10 - 10. Kaleidoscope
Album samples