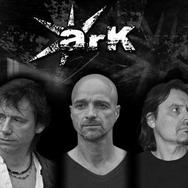 Evolving from incarnations as Damascus and Kite, arK's first line-up proper formed around Tony Short, Pete Wheatley and Steve Harris in 1986. With Steve's brother Andy on bass, and Dave Robbins on drums, the band released a single, 'Communications' before Andy left and was replaced by John Jowitt.

Although based only a few miles from Birmingham, the band were unable to get gigs there due to them playing what was then seen as unfashionable progressive rock; the arrangements and subjects might have been considered progressive, as was the eclectic line up (flute and guitar synth), yet the stage show – both theatrical and full of humor- won crowds over wherever the band played.

In order to overcome the lack of gigs in Birmingham, in 1987 the band entered and won a local "Battle of the Bands" competition, winning over a new audience in their home city, with the energy of their stage show leading to gigs in London including the Marquee Club. The mini album "The Dreams of Mr Jones" followed soon after in 1988, and the "New Scientist" EP later that year, recorded with new drummer Richard Deane, who had played with Jowitt in The First (featuring Mark Thwaite later of The Mission).

Building their following outside their native Black Country base let to 60-80 gigs a year, including guest support on IQ's summer 'Are You Sitting Comfortably' tour during June 1989. They then found themselves invited to play a headline date in Paris, and a support to It Bites for a one-off date in Tilburg, Holland.

Two cassette albums followed, "Archives", and "Stand Alone", the latter showing a more psychedelic side to the band, who were becoming increasingly frustrated at the lack of recognition despite universally positive responses from fans. In October 1990 John decided to leave the band following the change in direction, his successor being Gel Newey. Four months later, in February 1991, Richard announced his departure, and on Gel's recommendation, Paul Rodgers joined the band.

With the line-up now established, work began on new material. They entered the studio again in March 1991 to record the tracks for the "Cover me with Rain" EP. In June 1991, they won the opportunity to record a Radio One session, when they scored the highest number of recorded votes in the Friday Rock Show's Rock War. The band's popularity as a live act continued with regular gigs around the UK and mainland Europe, and the band recorded their final album, "Spiritual Physics". The band split on 13th March 1995 at the Flapper & Firkin in Birmingham, Jowitt joining them for one song.

"I always felt that the band and its music never got the exposure and reward it deserved." says Jowitt, known for his success with iQ, Jadis, Frost* and Arena. "I'd long wanted to try to get the songs out to a wider audience. When Steve Harris got in touch last year, it seemed the ideal opportunity. I hadn't expected Pete and Tony to be up for it, but a chance meeting with Pete in the pub showed exactly the opposite to be true. And hopefully, we can show everyone what they missed!"

As well as Jowitt, the band in 2010 features are original members Tony Short on vocals and flute, Pete Wheatley - lead guitar , Steve Harris - guitar synth , and new member Tim Churchman (formerly of Darwin's Radio) on drums.
Artist website