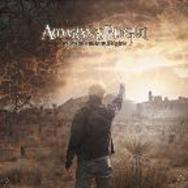 Buy
Price:
$4.95
Reviews
Italian review...

German review...

French review...

A collection of 14 video logs from the recording sessions...

Read all
Voice in the Light is the debut release from the powerhouse Symphonic Prog-metal band Amaran's Plight. The clever and inventive writing skills of Gary Wehrkamp and DC Cooper are evident with the many memorable melodies, riffs and chops as well as mind numbing instrumentals and solos. The impressive rhythm section of Nick D'Virgilio and Kurt Barabas complete the circle with rock solid drumming and bass work.

The band worked hard in 2006 to create a Progressive album of epic proportion. The conceptual piece hosts memorable songs that fit the emotion and situation of the concept thus creating a classic album that many will be talking about for years to come. The concept was developed by writer, John W. Crawford who also contributed as musical director and lyricist. The concept is a look at one man's search for answers following a Near Death Experience.

Key tracks include the haunting, Incident at Haldeman's Lake, Revelation and the 14 minute epic, Shattered Dreams. The CD clocks in at 76 minutes and contains 13 tracks.

Voice in the Light was Produced and recorded by Gary Wehrkamp.
Album tracks
0 - Promotional video
1 - 01. Room 316
2 - 02. Friends Forever
3 - 03. Coming of Age
4 - 04. Incident at Haldemans Lake
5 - 05. Reflections Part I
6 - 06. I Promise You
7 - 07. Consummation Opus
8 - 08. Truth and Tragedy
9 - 09. Shattered Dreams
10 - 10. Viper
11 - 11. Betrayed by Love
12 - 12. Turning Point
13 - 13. Revelation
Album samples