Takara > Invitation to Forever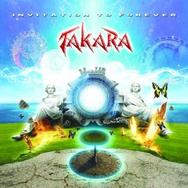 Reviews
Are you ready! Fasten your seatbelts and prepare yourself for a ride into some classic hard rock...

Gus Monsanto suits these hard rocking songs down to the ground and he reminded me at times of Dee...

The first thing that caught my eye when I finally had a review copy of "Invitation …" in my...

After several successful albums over the last few years Takara is yet returning with a new and...

Read all
Takara '08 is made up longtime Takara member and leader Neal Grusky on guitar. Gustavo Monsanto on vocals, Bjorn Englen on bass, and Patrick Johansson on Drums. In 06" Neal Grusky resumed work on what would be Takara 5th studio album. He first enlisted long time friend and Bassist Bjorn Englen. Sometime shortly after Neal made contact with Gustavo Monsanto to take over a lead vocals. Then Bjorn brought in fellow Yngwie Malmsteen partner on drums Patrick Johansson. Jeff Scott Soto even returns to lend his voice to the backing vocals.

From this point on they began recording what was to become "Invitation to Forever". "Invitation to Forever" is a slight departure from previous Takara albums since it has more of an harder edge sound than previous Takara albums with yet still retaining there commercial melodic sound that Takara albums are all known for.
Album tracks
1 - Angel of Lies
2 - Final Warning
3 - 555
4 - Spotlight
5 - Riders On The Road
6 - This Story Has To Be Told
7 - Place Under The Sun
8 - Still A Mystery
9 - Looking for Salvation
10 - This Photograph
11 - I Can't Hold On
12 - Nowhere To Run
Album samples