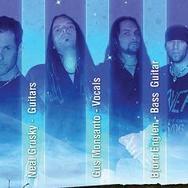 TAKARA was originally formed in August of 1987 by guitarist Neal Grusky. In 1990, Takara with Jeff Scott Soto producing and singing, entered into the studio to record new songs what would become their debut CD. In 1992 Takara added new members, Robert Duda/Drums and Gary Schutt/Bass who would become a part of the Takara debut CD. Zero Corporation (Japan) and Now and Then records (Europe) offered Takara a record deal and "Eternal Faith" was released in December 1993. This CD entered the Burrn Charts at number 16, and European charts at number 8. Things were beginning to happen for this young rock band.

After a short break the band began pre-production for their 2nd CD. Neal, Jeff, Robert and new bassist Carl Demarco, set out to pick up where Eternal Faith left off. In late 1994 the band entered the studio with fresh music and an exciting outlook. The band had some very special surprises in store for their fans as they enlisted Bob Daisley on bass, from Ozzy Osbourne, Rainbow, etc to guest perform on 2 tracks. "Taste of Heaven" was released in May of 1995 and with this new CD who could deny this was a band to be reckoned with. Taste Of Heaven had broken into the Billboard charts for Japan at number 96! Quite an accomplishment for a American band.

A new U.S. record label, Saraya recordings, asked to release Eternal Faith and Taste of Heaven as its first releases and in 1996, now for the first time Takara had a U.S. label and the momentum was starting to build. Because of this, the band wasted no time in going back to work for it's next release.

In 1998 Takara released it's third CD "Blind in Paradise" through Zero corp(Japan), Point Music (Europe), and Saraya recordings(US). . Shortly after the release of Blind in Paradise all of Takara's record labels celebrated their short but very successful career by releasing "Eternity-Best Of 1993-98". This CD was celebrated by press and radio alike to glowing reviews. The sale of the Eternity was nothing short of excellent.

As 1999 emerged, the Takara line-up went through an enormous change. Two thirds of the members had exited the band for various reasons. After the smoke cleared all that was left were Neal and Carl as the search was on for new band mates. Enter newcomers drummer Chad Clark, Portland native vocalist extraordinaire Michael James Flatters and keyboardist Brook Hansen. Brook and Neal had known each other for years and always shared similar ideas on music. With the band complete, Takara entered the studio in February of 2000 to record their 4th CD. "Perception of Reality" was released on November 21, 2001 on Avalon Marquee entertainment (Japan) and Lion Music (Europe). Soaring sales in Japan & Europe once again proved that Takara has what it takes to be a permanent staple in the world of hard Rock.

Since the release of Perception Of Reality, Lion Music has reissued all previous Takara releases. The band also contributed the Rainbow classic 'Can't Let You Go' to 'Blackmore's Castle volume 2'. Shortly after this, the band took a long hiatus for professional and personal reasons. During this time Michael, Carl, Brook and Chad had left the band, which once again had Neal scratching his head in wonder. Bjorn Englen and amazing player & person was recruited on bass and has been working & with Neal ever since.

Now in 2008, Takara is returning with once again new band members and new attitude. Fans who have stuck by the band through all the changes and years of waiting will be pleased with what's in store for Takara in 2008. Takara is reemerging in 2008 with several albums coming out at consecutively. For this new release Takara have added Brazilian vocal sensation Gustavo Monsanto to the band, as well as Yngwie Malmsteen drummer and bassist Patrick Johannson and Bjorn Englen, as well as long time Takara keyboardist Brook Hansen.
Artist website