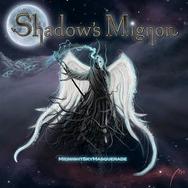 Buy
Price:
$9.95
Reviews
Henning Pauly is one of the most well known multi-instrumentalists in the current scene, and one...

The characteristics, paroxysms and even clichés of the early to mid 80's heavy metal (especially...

The start of the album is immense and really kicks some ass! "A Dragon Shall Come" immediately...

Mid eighties power metal has come back rearing its loud banging head in the form of Shadow's...

Read all
"Shadow's Mignon" was born out of an idea Henning Pauly had one day. He heard some classic metal in the car and decided to try to write some music in this style on his own. He employed the help of singer Juan Roos to give the project the definite metal vocal sound. At some point Keyboard player Stephan Kernbach brought over his Roland D50 for the official 80's keyboard sounds. He laid down some parts of his own, especially his signature Hammond B3 playing. The music of the band is everything you would expect from the glory days of the 80's when guitar solos still screamed and vocals soared just like the eagles and dragons they were singing about. The album also features a few of the "must-have" ballads with all the classic chorusy guitars and keyboard sounds. "We were able to do so many things and use so many sounds we are told we "can't use anymnore" today because they are out of date, so we went back to our roots and made music that cannot live without them.", says Henning.
Album tracks
1 - A Dragon Shall Come
2 - A Slave To Metal
3 - Midnight Sky Masquerade
4 - Goodnight Boston
5 - Darkness Comes To Light
6 - A Beast Abandoned
7 - I Will Never Ever Stop
8 - All Hail The Warrior
9 - Kingdom Of The Battle Gods
10 - Spirit Of The Elves
11 - No Metal Son Of Mine
12 - Out Of Control
Album samples