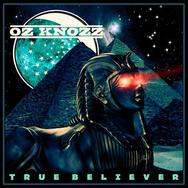 Buy
Price:
$4.98
Reviews
Standout tracks are lighters-in-the-air Empty Room and Goodbye Again. The curiously-titled Fox Paws...

It is with great pleasure that I write about this disk. The previous album from these Texan gents I...

Interview...

Read all
Oz Knozz is Duane Massey, Milton DeCoronado, Robert Guinea, Bill Massey, and Marty Naul. The ten tracks on their latest release are as innovative as they are impressive. The majestic "Empty Room" sparkles with two familiar Oz Knozz elements: great solo work and subtle, tasteful harmonies. The guitar-driven "Goodbye Again" sports a Kansas (the band) flavor, and "Far Away" is a splendid vocal fest. The award for best groove on this offering goes to "Fox Paws", a sharp and sleek number featuring tight horn solos that provide a compelling contrast to the rest of the song. The pace slows, albeit briefly, with the melodic "Always There", while "Here Comes The Night" boasts a stadium rock intro and perhaps the finest vocal on the album. The up-tempo rocker "Visitor" is followed by the band's interesting take on the blues, "What The...?, complete with horns and a biting guitar solo. The title track brings the energy level up once more, before Oz Knozz wraps things up with the Queen-inspired "Kings and Treasures".
The production and performances here are all first-rate. Give this one a listen, and you just might become a "True Believer" yourself!


Album tracks
1 - Empty Room
2 - Goodbye Again
3 - Far Away
4 - Fox Paws
5 - Always There
6 - Here Comes The Night
7 - Visitor
8 - What The...?
9 - True Believer
10 - Kings And Treasures
Album samples