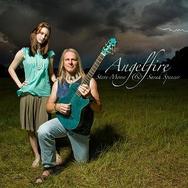 Reviews
I don't think I have to introduce Steve Morse to any progressive rock devotee or even better: to...

From the opening notes of "Far Gone Now," listeners know that they're in for something special....

The old adage "You can't judge a book by its cover", or CD in this case, doesn't ring true with...

Angelfire is a collaborative effort between guitar legend and songwriter Steve Morse (Deep Purple...

Read all
This collaboration represents several firsts for each artist. Even after 44 albums, Steve has never written a vocal album. Sarah is stepping out front as a performer and a songwriter. And despite cumulative experience across multiple genres of music, neither has written anything that sounds like Angelfire. At first recalling Sarah McLachlan meets John McLaughlin, or Allison Krauss & Robert Plant; Angelfire soars beyond compare into the hearts of audiences hungry for unique new music.
Album tracks
1 - Far Gone Now
2 - Everything to Live for
3 - Feelings are Overrated
4 - What Made You Think?
5 - Here Today
6 - Get Away
7 - Pleasant Surprise
8 - Terrible Thing to Lose
9 - Omnis Morse Aequat
10 - Take It or Leave It
11 - Urban Decay
Album samples