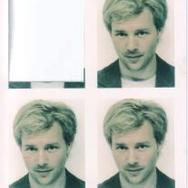 German multi-instrumentalist, singer, producer and control freak "t" is back with his 3rd album. After fronting german progrock masterminds "scythe" and 2 highly acclaimed solo albums, he took four years to write, perform, mix, produce and co-master "anti-matter poetry", a 68 minute concept album. t, again, played all the instruments and sang all parts here.

t has always been a musician. his parents had him classically educated as a piano player as well as a singer from early childhood on, but as the girls seemed to fancy guitar players more, his main interest shifted there at a stage in his not-quite-so-early-childhood. Today he admits to the fact of being a strictly average musician with many instruments. From early band efforts on, t has also always been interested in sound issues and thus kept on learning how to arrange, record, mix, and produce. Although all of his solo albums feature him as the sole instrumentalist and singer, "Anti-Matter Poetry" is his first effort to also do all the sound work by himself. Only the final mastering was transferred to frequency wizard Jürgen Lusky - with t assisting, of course.

In his daytime job, t teaches teaching to teachers and teaches himself. However, he still does not suffer from any mental disfunction grave enough to be diagnosed, apart from having a phd in classics. He is married to the renowned artist and writer Katia Tangian and father of a daughter.
Artist website