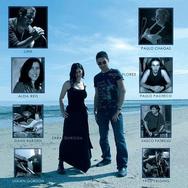 "Project Creation" is the new project by multinstrumentalist Hugo Flores. The first release called "Floating World", is a concept album, based on the development of life on a dead planet. For this album several musicians were invited to participate in this adventure. An incredible video clip is also being produced all in CGI/3D to describe the story of the album.

Hugo Flores: "Project Creation is my most ambitious project, not only regarding the number and quality of the involved musicians, but also in terms of storyline, music depth, and overall production. The mixes have been carefully crafted, and the compositions were sculpted around each step in the storyline. It's was a true privilege to be able to count on such wonderful musicians. Working with Linx from the band Forgotten Suns, for example, was just great. We recorded the whole vocals in less than two days! Linx immediately captured the essence of the album, managing to find his own melodies blended with some of my ideas. A real pleasure to work with! The same with the other musicians, all of high quality. A special note to the fabulous work on the Saxophone and flutes by Paulo Chagas, one of the best musicians in the Portuguese progressive scene, I've worked with.

For "Project Creation – Floating World", I wanted more than with Sonic Pulsar. The concept demanded a wider sound and different production. I really wanted to capture the emotions of every moment of the story. This is the reason of so many moods, sounds, instruments throughout the cd. And the album evolves, like a child, and has its moments, some simple some much more complex musically, just like life… and this is what the album is about, life!

The process of building each song was also like making a sculpture. A simple idea played on the synths, or the guitar, fast became an odyssey, and to look back at the first demos I can only be proud of what each song became. I enjoy my Sonic Pulsar and solo projects, but I have to admit that, to this day, "Project Creation" is the one that satisfies me the most!"

"'I wanted 'Dawn on Pyther' to be much more powerful than its predecessor, blending intense rock and metal with dense ambient landscapes, culminating in a progressive and symphonic sound, fronted by even stronger female and male vocals. I think the objective was reached.

One thing I also care about was the artwork. It had to be very
detailed to describe every song of this album and create a powerful combination of music (near 80") and fantastic artwork (full 12-page booklet). This is also what makes a cd unique, rather than just listening to the music."
Artist website