Odin's Court > The Warmth of Mediocrity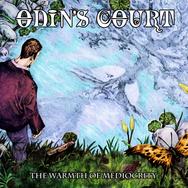 Buy
Price:
$3.98
THE WARMTH OF MEDIOCRITY is a new album from USA based progressive metal and rock band ODIN'S COURT. It features one brand new song as well as select songs from the band's previous albums.

This release, the fourth on PROGROCK RECORDS, serves as an intermediate album as the band writes and records their next full length work (in progress). The title track takes the band in a slightly more simplistic and stripped down direction; with a song structure that is more focused to appeal to more casual listeners, the band offers a catchy song that maintains intricacies and decorations for music connoisseurs and still containing the band's signature sound. Select songs from previous albums are featured on THE WARMTH OF MEDIOCRITY, including 6 songs from the PROGROCK RECORDS début DEATHANITY, 1 song from HUMAN LIFE IN MOTION, and 3 songs from the band's very first album Driven by Fate (previously unreleased through PROGROCK RECORDS). TONY KAKKO (SONATA ARCTICA) and TOM ENGLUND (EVERGREY) are featured on "Mammonific" and "Crownet" respectively.

Band founder Matt Brookins commented on the new album: "Although we seem to have disappeared for the past couple of years – acoustic album aside – we have been busy at work and had a lot going on. We have had some personnel changes, and while these are always difficult when it comes to both band chemistry and fan reaction and acceptance, this transition has been very natural for us and made the band a lot stronger. Dimetrius LaFavors in particular brings so much to the table in terms of a being more traditional soaring metal singer, that I'm able to start expanding and pushing the boundaries of my song writing. Speaking of that, I've written another album, mapped out the concept, and recorded some demos for the rest of the band. One of those songs, 'The Warmth of Mediocrity,' turned out so good, we thought it would be worth releasing it as a single ahead of the next full, new album. Naturally, that idea morphed into something more, and we now have a full length album that acts as a compilation of some of our live staples – and some that were included just for fun!"

ODIN'S COURT draws inspiration from the likes of Devin Townsend, Pink Floyd, Porcupine Tree, Rush, Yanni, Enya, HIM, Counting Crows, Queen, Dream Theater, and more.




Album tracks
1 - The Warmth of Mediocrity
2 - Can't Forgive Me
3 - Volatilestial
4 - Manifest Destiny
5 - Mammonific
6 - Animaulic
7 - Crownet
8 - Ode To Joy
9 - D2C
10 - Surreal Contemplations
11 - Utopian Rust
12 - Paradise Lost Ch. 1
Album samples