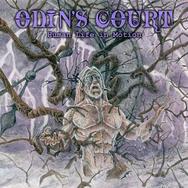 Buy
Price:
$5.95
Reviews
Among the topical moments of the record we find the odd drum beats within "Blue Line (Inops)"...

The follow up is in many ways simpler and more straight-forward than Deathanity and as such it...

This is, quite simply, gorgeous music. Between the melodies, the subtle yet intricate guitar work...

With Human Life In Motion, American progressive metal act Odin's Court aim to take a look at the...

Read all
Human Life in Motion is the latest effort from Odin's Court, a Maryland, USA band. The album was recorded, mixed, and produced by band architect Matt Brookins at D2C Studios between January 2008 and December 2010. The album was mastered by Chris Brown in January 2011.

Human Life in Motion is a concept album with an introspective look at the individual's life and mind. Each song deals with a primary human emotion and takes the listener on a journey through a range of feelings and textures. Brookins comments, "While [the last Odin's Court album] Deathanity was philosophical and macro in scope, Human Life in Motion is more introspective and personal, dealing with the human mind and experiences. Since we set out to make Deathanity a very artsy album, this latest effort was designed to be more accessible and catchy. That doesn't mean that the intricacies or diversity of the music are gone, but it does mean that those characteristics are much more transparent to the casual listener." Human Life in Motion was co-written by Brookins and bassist Craig Jackson and features 11 tracks, clocking in around just under an hour.

Odin's Court draws from classic inspirations such as Pink Floyd, Boston, Queen, Metallica, Iron Maiden, and Journey as well as more modern bands such as Devin Townsend, Counting Crows, Type O Negative, OSI, Porcupine Tree, and Tool.

Promotional videos:





Album tracks
1 - 01 - Affect Us (Affectus)
2 - 02 - Blue Line 5:30am (Inops)
3 - 03 - Cant Forgive Me (Invidia)
4 - 04 - There Then Here Again (Frustror)
5 - 05 - Blacktop Southbound (Animus)
6 - 06 - Silent Revolution (Insania)
7 - 07 - The Wrong Turn at the Right Time (Oneiroi)
8 - 08 - Red Glow Dreaming (Laetitia)
9 - 09 - The Echo of Chaos (Poena)
10 - 10 - Feathered We Fly (Termanatio)
11 - 11 - Leaving Chicago (Moestitia)
Album samples