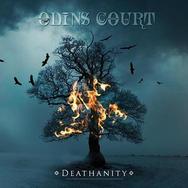 Buy
Price:
$2.95
Reviews
German review...

French review...

Italian review...

Spanish review...

Read all
Deathanity is the latest effort from Odin's Court, a Maryland, USA band. The album was recorded, mixed, and mastered by band architect Matt Brookins at D2C Studios between January 2007 and March 2008.

Deathanity is an ambitious concept album dealing with the effects mankind's actions are having on the planet. Alternate views are offered through the use of instrumentation, lyrics, sound effects, and various vocal clips. Ambience, dynamics, and soul are combined with complexity, groove, and energy in a song oriented structure, to create a unique, surreal landscape. Each song, dealing with a different theme, is accompanied by a newly created word and definition in the album art.

Special guest vocalists include Tom Englund (Evergrey) and Tony Kakko (Sonata Arctica). Other guests include Bill Green on tenor sax and Nicki Brookins, Elena Hall, and Suzanne Warner on backing vocals.

Odin's Court, comprised of Matt Brookins (Vocals, Guitars), John Abella (Drums, Percussion), Savino Palumbo (Keyboards), Craig Jackson (Bass), and Rick Pierpont (Guitar), draws from classic inspirations such as Pink Floyd, Boston, Queen, Rush, Metallica, Yes, and Journey as well as more modern bands such as Devin Townsend, Chroma Key, OSI, Porcupine Tree, Dream Theater, and Tool.


Album tracks
1 - 01. Terracide
2 - 02. Volatilestial
3 - 03. Manifest Destiny
4 - 04. Oceanica Toxica
5 - 05. Mammonific
6 - 06. Animaulic
7 - 07. Esoterica
8 - 08. Crownet
9 - 09. Obesite
10 - 10. Ode to Joy
11 - 11. Cosmosera
12 - 12. Vastificant
Album samples