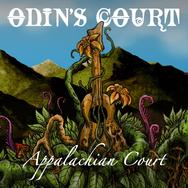 Buy
Price:
$3.98
Appalachian Court is a new, all acoustic album from ODIN'S COURT, a USA based rock and metal band. The album, while firmly rooted in the acoustic rock realm, has its own, unique, well blended sound featuring aspects of various genres such as rock, progressive, folk, country, bluegrass, reggae, jazz, and more.

This release, the third on PROGROCK RECORDS, takes the band in a very different direction than 2011's HUMAN LIFE IN MOTION and 2008's DEATHANITY. Band leader Matt Brookins comments, "We have very diverse musical tastes – ranging from slow to fast, soft to heavy, and everything in between. With Appalachian Court, we wanted to do something very different than our previous efforts, so we went for a very stripped down and organic approach. That doesn't mean the ODIN'S COURT sound is missing – we are happy with the final balance of acoustic rock infused with our more diverse sounds."

The album features a wide range of more traditional and acoustic instruments including acoustic guitar, mandolin, piano, double bass, mountain dulcimer, banjo, harmonica, squaresaw dobro, and acoustic drums. Brookins comments on this sound, "This was a very fun project for us, but is not an indication of a permanent change to an all acoustic format. We are still working on our reboot, remix, and remaster of our first album DRIVEN BY FATE, and also have well over two albums' worth of material for brand new releases in the future. This acoustic album was just another evolution of our diverse style, and the electric instruments will be back for future releases."

On the decision to include cover songs on the album, Brookins comments, "We have always enjoyed working a cover into our live sets; however, we have never featured one on a recording. For this one, we picked three bands that influence us to various degrees, and then proceeded to put our own spin on the tracks."

On Appalachian Court, ODIN'S COURT drew from various inspirations such as Pink Floyd, Alison Krauss & Union Station, Devin Townsend, Porcupine Tree, Type O Negative, Dave Matthews, Bruce Hornsby, Queen, and the Counting Crows.


Album tracks
1 - Paradise Lost Chapter 1
2 - Animaulic
3 - Blacktop Southbound
4 - Round Here
5 - Obesite
6 - Greenline 5:30 PM
7 - Manifest Destiny
8 - Wish You Were Here
9 - Red Glow Dreaming
10 - Utopian Rust
11 - Leaving Chicago
12 - Love You To Death
13 - Vastificant
14 - His Dark Materials
Album samples