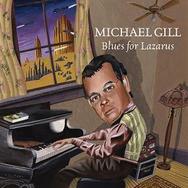 Reviews
Michael Gill apparently has a varied background as a composer, and on this debut effort variety is...

...One thing that certainly drew my attention is that four out of nine songs are inspired by three...

...The sound is softly progressive, chilled, almost jazz-like in places. There is rock in the mix...

Michael Gill is an American pianist/composer and on this album he has half of the album given over...

Read all
San Francisco Bay Area - based pianist, composer, and band-leader, Michael Gill, has released an engaging, energetic, and evocative debut solo project. With an array of great players from both Northern and Southern California, "Blues for Lazarus" showcases Gill's composing, arranging, and keyboard skills. About half of the CD is devoted to creative musical interpretations of favorite Speculative Fiction novels including Robert A. Heinlein's "Time Enough for Love," Mary Stewart's "The Hollow Hills," William Gibson's "Neuromancer," and Frank Herbert's "Dune." In his collaboration with master recording engineer Neal Harris, Gill has crafted a collection of musical textures that range from all acoustic ("Blues for Lazarus," "Stay the Night") to all electric ("Tomorrow's World") with most songs blending acoustic, electric, and synthetic layers in the style of early Genesis or Jethro Tull. World-renowned drummer, Dave Weckl, guests on the instrumental suite, "Arrakis" and legendary alto sax soloist Dave Koz lends his horn to the ballad, "Stay the Night." Other featured artists include singers Rick Ellis, "Snappy" Dave Cowden, and Callie Thomas; guitarists Tom Valdez and Damian "Dan" Petruzzella; bassist Rob Fordyce; saxophonist Gary Meek; and drummers Brad McKeague and Michael Oliver. The CD includes a cover arrangement of Peter Gabriel's melancholy "Here Comes the Flood," sung by Callie Thomas.
Album tracks
1 - 1. Arrakis
2 - 2. Blues for Lazarus
3 - 3. Colorado
4 - 4. Here Comes the Flood
5 - 5. Memory of a Dream
6 - 6. Merlin's Journey
7 - 7. Rain
8 - 8. Stay the Night
9 - 9. Tomorrow's World
Album samples