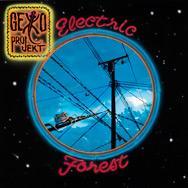 Reviews
The great tunes keep coming from the irresistibly catchy progressive pop of "Black Hole" featuring...

Well, I'm including this in the prog section because Gekko Projekt are signed to ProgRock Records...

Seven of the 10 tracks are instrumenta with ample melodic hooks. "Black Hole" is a bit trippy and...

If you have a fairly liberal taste in music, enjoy compositions of an accessible nature and like...

Read all
Symphonic keyboards, progressive guitars, driving bass and adventurous drums provide the backbone of this debut release by Gekko Projekt. The album opens with "Particle Dance", an energetic instrumental that contains all the elements of classic Yes. "Black Hole" sounds like it could be a hit single for the band without betraying the progressive nature of the album. Echoes of Weather Report and jazz-rock are evident in the following two instrumentals, "Cognitive Dissonance" and "London Vibe" before the band launches into its epic song "Avatar Jones". This tells the story of a skateboarder that finds his blogs have taken on mythical proportions and reflects his struggle to disassociate himself from his followers. It features symphonic keyboards and a moving guitar solo reminiscent of Tony Banks and Steve Hackett at their combined best with Genesis. The next instrumental is "Erdinger" and is driven by a strong, heavy yet melodic bass riff that features intriguing time changes that are made to sound natural by some tight rhythmic yet quite expressive drums. "State of Siege" is an up-tempo instrumental that almost brings to mind a musical interlude by King Crimson. The album closes with "October Skies", a song about a computer program that gains intelligence beyond the control of humans, with pulsating verses and an anthemic chorus that delve into an experimental jam over a fast-paced bass arpeggiator.

Video review:


Album tracks
1 - Particle Dance
2 - Black Hole
3 - Cognitive Dissonance
4 - London Vibe
5 - Avatar Jones
6 - Erdinger
7 - Martian Sunrise
8 - State of Siege
9 - October Skies
10 - Particle Coda
Album samples