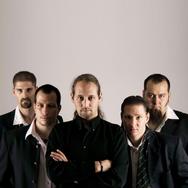 Everwood is a modern melodic rock/metal band from Hungary.

The band was founded by Attila Tänczer (keyboards) and former bassist Viktor Erdős in1997.
From the beginning of 2004, the preparations for the first studio album were already taking form. By the summer, after months of hard work, the band finally started their first studio session. The band released their debut album, titled Mind Games in 2005.

In 2006, together with their new drummer – Tamás Szabó – the band was set to record their second album, titled The Raven's Nest. The album was released in 2007.

Everwood had performed at many venues, including a solo concert of the Psychotic Waltz singer, Devon Graves, and also played as the support band before the British prog-rock legend Arena, and at the Sziget Festival 2006 in Hungary. But the most memorable event was probably their album-debut concert, where Everwood performed together with the legendary Jorn Lande on his tour in Budapest.

The year 2008 had brought great changes in the ever forming lifestyle of the band.
With the coming of the new bassist, Sándor Kállai - whose virtuosity and maturity in music is ever since a great addition to the band, not to mention his vocal performance - the band has found new ways of expressing itself. And after a few weeks of contemplation, the band has found Everwood's current lead singer Mátyás Haraszti, who has lived up to – and even exceeded – the level of devotion the band had set for him. With his years living in the realm of professional performance, and his experience in singing all sorts of different music, he had no trouble fitting in with the group.

The long awaited third album has finally been completed and sealed in the March of 2011. The record, titled 'Without Saving' is the first true collaboration since the new formation. It represents everything that the band and the fans have stood for in the past years, showing a whole new range of thought provoking ideas, both musically and lyrically. Hence, the latest Everwood album in the new millennium is not the beginning, it is not the end, not even the beginning of the end, but the end of the beginning.
Artist website