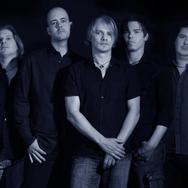 DANTE was founded in 2006 by keyboardist Markus Maichel and guitarist Markus Berger.

Being pals since school, they kept meeting for shows of their favourite bands.
It was at the Munich show of the Dream Theater world tour in fall 2005 that they decided to meet and do sessions at the private studio of Markus Berger.

It turned out soon that the quality of the material recorded was just too good to stay at the level of a private spare time activity. It was then that vocalist Alexander Göhs, a close friend of Maichel and the singer of Berger´s former band "Twelve" was asked to join the recording sessions to get a better idea of what the songs could sound like. He joined Dante as a regular member soon afterwards. The line-up for the first recording was completed by drum virtuoso Christian Eichlinger, who not only shared his passion for progressive music and drumming, but also his experience in complex arrangements with the band.

That was when Dante evolved in 2007 from a studio project to being a band heading straight towards their debut album: the 2008 release "The Inner Circle", that was recorded, mixed and produced by Berger and Maichel in their own "The Hidden Studios" in Augsburg, Germany. The album was an immediate success with critics worldwide and was highly acclaimed by fans of the genre as well.

The ambition to take the music on the road led to bassist Michael Neumeier joining the band early 2008 to complete the present line-up.

All members of Dante have been fascinated by progressive music ever since, starting with influences like Pink Floyd, ELP, the early Genesis and Yes, up to present artists like Porcupine Tree, Neal Morse and Dream Theater.

The music of Dante reflects all this - progressive yet catchy, melodic yet powerful.
Towards the end of 2008, Dante started to write material for a new album. The band moved out of their trusted "Hidden Studios" in mid-2009 and into their new "The Red Tube Studios", where they do their work for Dante as well as remittance work.
Here the songs that would become their latest album "Saturnine" were recorded, mixed and mastered.
Artist website