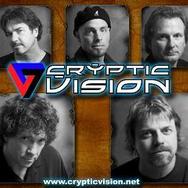 Cryptic Vision is a progressive rock band from Sarasota Florida. The band was formed in 2003 by multi-instrumentalist/producer Rick Duncan and vocalist Todd Plant. Rick had produced several albums for local and national artists and Todd had fronted the bands Eyewitness and Millennium as well as working with former Doobie Brothers and Chicago Members. CV's first album "Moments of Clarity" started primarily as a recording project with Todd, Rick and keyboardist Robert Van Dyne. It featured several guest musicians such as Kansas violinist David Ragsdale, guitarist Ralph Santola (Iced Earth, Sebastian Bach, Deicide) keyboardist Howard Helm (Ian Hunter, Zon, Refuge) Neurotica guitarist Shawn Bowen and many others. The album received rave reviews and got the band signed to record deal with Progrock Records. In 2005 CV became a live act adding bass player/vocalist Sam Conable, guitarist/vocalist Tim Keese and keyboardist John Zahner. They started the year opening for Kansas and in May they performed at the annual Rites of Spring festival in Phoenixville PA. The performance was recorded and became their second release "Live at ROSFest 2005".

In 2006 CV returned to the studio and started work on their third album "In A World". Due to schedule conflicts John Zahner who was also recording and touring with Jon Oliva's Pain was not available. Howard Helm was brought in to track keyboards and stayed on as a permanent member. The album was recorded much more as a band project and also featured special guests David Ragsdale, Ralph Santola and Spock's Beard guitarist Al Morse. In June of 2006 Cryptic Vision released "In A World" and again received rave reviews. They debuted the new live show at their CD release party in Sarasota just one week before performing it at Calprog 2006 in Los Angeles. They also did opening shows for Toto, Kamelot and legendary Swedish progger's The Flower Kings. "In A World" also recieved the award for "Album of the Year" at The Songwriters Showcase Of America in Deland FL.

In 2007 CV helped Asia kick of their 25th anniversary tour by opening their first show in Sarasota's Van Wezel Performing Arts Center. Cryptic Vision has just finished their most ambitious album to date "Of Infinite Possibilities". As with the first 2 studio releases, the new album features guest musicians David Ragsdale, John Zahner and others. "Of Infinite Possibilities" is part 3 of the trilogy "Moments Of Clarity In A World Of Infinite Possibilities". It begins where "In A World" leaves off and ends in epic fashion with the 21 minute title track. CV will also be releasing a box set with all 3 studio albums, artwork and a 4th bonus disk with unreleased live and studio tracks later this year.
Artist website