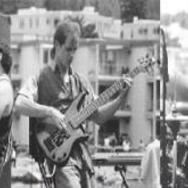 Ajalon was officially introduced to the world through the release of their critically acclaimed debut CD "Light at the End of the Tunnel". Originally released by Rick Wakeman of Yes fame, on his indie label, Ajalon recieved airplay on every major radio network in the UK.

Ajalon's music is at once hard hitting and grand in it's design. Built around sweeping rythyms and driving melodies, Ajalon's sound embodies a number of influences botth classic and modern. Wil Henderson is Ajalon's bassist, vocalist and chief lyricist; he occasionally adds guitar and various wind instruments to the group's music. His particular gift is that of wordsmith, using vivid story-telling lyrics.

Randy George (Neal Morse band) is the instrumentalist of the band. His talent is a unique association between the keyboards, bass and electric and acoustic guitars. His writing style is on an epic scale with a musical symmetry that inspires great visions for the listener. Dan Lile is the driving force behind Ajalon's music. Dan is gifted with a unique drumming ability that is at once commanding and powerful which is evident in the explosive energy that gives Ajalon its unique expression.
Artist website