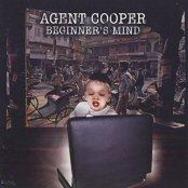 Buy
Price:
$3.95
Reviews
...So what we have here is a CD running just a tick over 46-minutes with ten tracks, most in the...

This is my first exposure to Agent Cooper. They're part of what could be called the new American...

...Fans of prog rock should definitely be checking these guys out. Even if prog rock isn't...

pening with an Eastern sounding feeling in "East indian sun" the band quickly shows...

Read all
Beginner's Mind, the sophomore release from Atlanta, Georgia-based Agent Cooper, was six years in the making. It's a whirlwind ride through a string of styles and influences that saw it's genesis during the recording of the first Agent Cooper record in 1998. In the years that followed, singer/songwriter Doug Busbee wrote, and the band recorded and re-recorded, almost two complete albums worth of material; the best of that material became Beginner's Mind.

On Beginner's Mind, Agent Cooper has managed to balance catchy hooks with blazing chops. It's an album the most hardcore prog'er _and_ his girlfriend will enjoy.
Album tracks
1 - 01 - East Indian Sun
2 - 02 - Shallow Disease
3 - 03 - ...in the Bottle
4 - 04 - Taipei
5 - 05 - Timing Crucial
6 - 06 - I Never Remember
7 - 07 - The Heat
8 - 08 - She Screams
9 - 09 - Struggle Like I Do
10 - 10 - You Know
Album samples