Press > PROGROCK RECORDS AND QUIXOTE-MUSIC ANNOUNCE NEW ALIAS EYE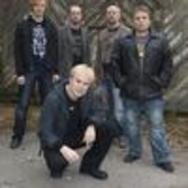 08 Jan 2012
Rancho Santa Margarita, CA ­ 4 January 2012 -- ProgRock Records and QuiXote-Music  are proud to announce Alias Eye's latest studio album, 'In-Between'.  A return to the melody-driven arrangements of their debut, 'Field of Names', while retaining the heaviness of the band's third effort, 'In Focus'. 'In-Between' highlights Alias Eye's approach to songwriting: strong vocal hooklines are paired with lavish choir arrangements and meticulously arranged instrumental passages. From the oriental flair of the opening track, 'Arabesque', to the mellow, bitter-sweet lament of the ballad 'Stars Shall Fall' and the heavy guitar riffs of 'Indentured Pride', 'In Between' is a truly progressive journey through a variety of different styles and genres.
Alongside nine original songs, the album includes a new rendition of Beggars Opera's classic hit 'Time Machine', featuring Martin Griffiths (Beggars Opera) and his son, Alias Eye's singer Philip Griffiths, on the vocals.
Shawn Gordon, President of ProgRock Records had this to say, "Alias Eye was one of the very first acts we worked with when we started out and I'm always interested in their releases, so getting to combine that with our QuiXote-Music partnership made perfect sense.".
Philipp Jaehne, President of QuiXote-Music  and keyboardist of Poor Genetic Material adds, "We were quite pleased with the results of working with Shawn on the release of the Poor Genetic Material album Island Noises, so it only made sense to do it again.".
Tweet